Zero QB strategy is alive
By Jesse Moeller (Twitter: JMoeller05)
In Superflex leagues the quarterback is king. So why am I writing an article that is telling you to fade quarterbacks in Superflex startup drafts? There is serious value to be had at other positions in the draft if you employ this tactic. You will miss out on prominent players such as Mahomes, Murray, Allen, and Jackson. While you will be able to walk away with marquee names such as Kamara, Taylor, Adams, and Metcalf. I'm here to show you how this proven strategy can give you a leg up on the rest of your league
DLF Superflex Dynasty ADP has eight of the first ten picks as quarterbacks. Here are the picks listed in order. Mahomes, Allen, McCaffrey, Murray, Watson, Herbert, Jackson, Prescott, Burrow, Taylor. There are a few things that jump out to me, one is that the teams desire the stud fantasy quarterback. If we include the second round we jump up to 12 of the first 24 picks being a quarterback. (50%!) The next takeaway is how young they all are. Only two quarterbacks are over 30 years old. They are Russell Wilson and Aaron Rodgers. Everyone else is 27 or younger.
Quarterback age is easily the most overrated part of a dynasty league. As you can see from the graph below a quarterback does not peak until age 29 season. You do not see a significant drop from the quarterback until age 34. What this tells me is that you are getting similar production at age 26 that you do at age 32. The value of the player may not be similar, but you're going to get similar production starting Kirk Cousins that you will by starting Joe Burrow. The difference in ADP is massive. Burrow is going in the first round while Ryan is going in the sixth round of drafts. Selecting the older quarterback allows you to select elite skill position players earlier in the draft.
I understand why dynasty teams are clamoring to draft young quarterbacks such as Herbert, Burrow, and Lawrence in round one or two of startup drafts. As the value they hold compared to the rest of the league is incredible. How is that going for teams that drafted Mitchell Trubisky, Sam Darnold, Josh Rosen, Dwayne Haskins, and Jordan Love? Let those other teams take the quarterback early while you stock up on filling out the rest of your roster. I'm going to give you an example of picking from the 6th slot in a 12 team draft based on DLF ADP.
Using the "Zero QB" strategy In the first four rounds I prefer to start building the meat of my team at wide receiver and running back. I choose to start by doubling up at both RB and WR. I have the players below sorted by ADP and would be thrilled to grab one player from each round. 1.06: RB1 Christian McCaffrey, Jonathon Taylor, Saquon Barkley, Alvin Kamara 2.06: WR1 Davante Adams, Justin Jefferson, Tyreek Hill, D.K. Metcalf 3.06: RB2 Cam Akers, Antonio Gibson, Ezekiel Elliot, Najee Harris 4.06: WR2 Michael Thomas, Tee Higgins, Terry McLaurin, Ja'Marr Chase
Risk It for the Biscuit
There is some serious risk-reward to passing on a quarterback in the early rounds. As with any strategy adjust it based on how the draft is going. If quarterbacks are flying off the board early, go ahead and grab one in the fourth round. Around QB17-30 is where I prefer to get my two starting quarterbacks. That generally puts you in the fifth through the eighth round of a draft. Giving you choices such as Tua, Cousins, Ryan, Wentz, Brady all the way up to Jameis Winston🙄(I know, I know Mr. Pick Six himself). If you are feeling hopeful you can push it out until about Ryan Fitzpatrick 😱 in the 18th round. I would not recommend it, as that is taking this strategy out to the razor's edge. I prefer to leave myself a bit more leeway.
Proof Is in the Pudding
While other teams are reaching for quarterbacks early in the draft you are securing cornerstone players that you can set and forget in your lineup. Here is one of my Superflex teams that I drafted this offseason using the "Zero QB" strategy. I am thrilled with how this team came together.
Zero QB strategy in SF is one of my favs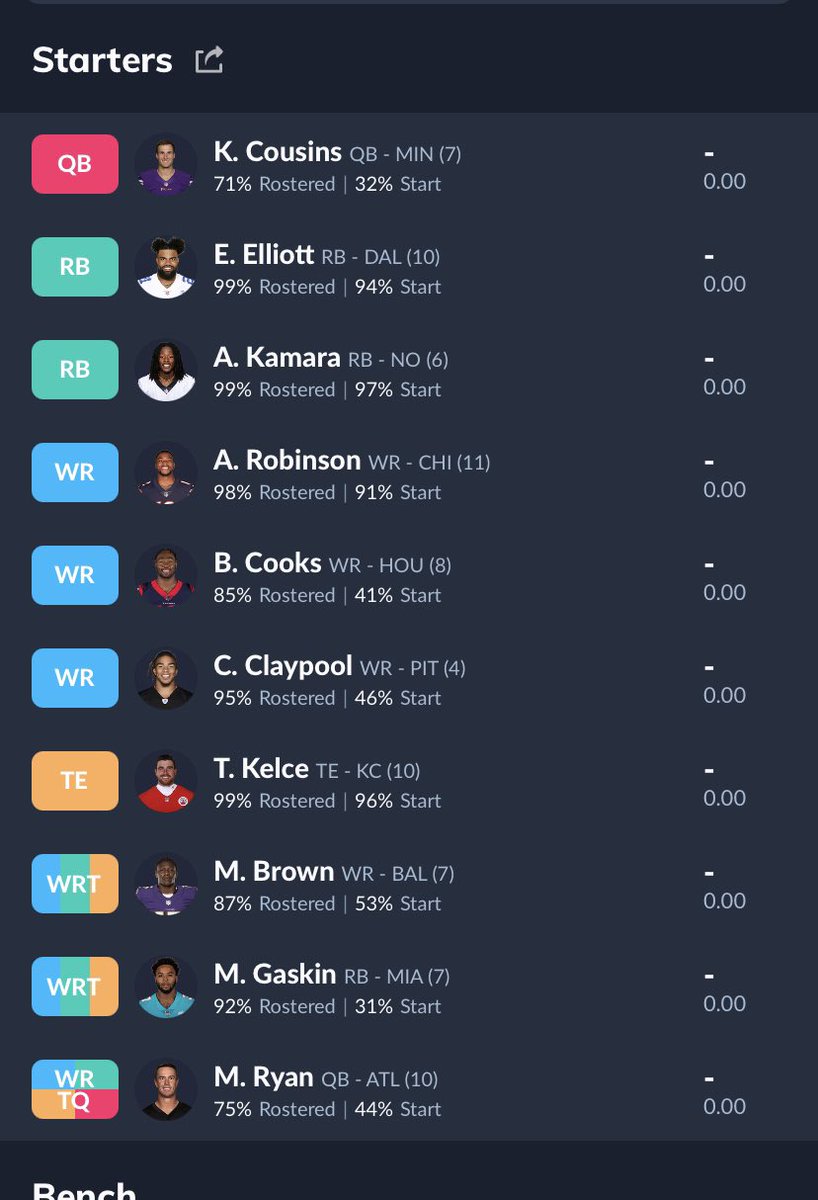 Originally tweeted by Jesse Moeller (@JMoeller05) on April 1, 2021.
Using this strategy I was able to get two high-end fantasy quarterbacks in the sixth & eighth rounds. I added Taysom Hill, Cam Newton, Andy Dalton later in the draft to give myself some depth at the position. What this strategy allows you to do is build ridiculous depth at the skill positions. You can target numerous wide receivers and/or running backs earlier in the draft. even later, you can grab players such as Brandin Cooks, Will Fuller, Robby Anderson, Curtis Samuel in the double-digit rounds. These players are being pushed further down draft boards to make room for the vaunted 2021 rookie class.
Embrace The Fear
Most of your league mates will be tripping over themselves to trade up into the first or second round to grab one of the top 12 quarterbacks. Happily trade back in the startup and accumulate more picks at building depth and/or future picks. It will be challenging to trust as you are letting the premium talent pass you by. I mean who doesn't want Kyler Murray and Josh Allen on the roster? Hold firm to the belief that in the long run, you are giving yourself the best chance at winning a championship. Implemented correctly it can lead to a bounty of assets in the third to the sixth round of drafts.
I personally aspire to have as many picks in the third through the sixth round of startups. Those players are only a tier or two below the elite assets in fantasy and have the potential of joining those assets in the upper tier a season later. Let the draft come to you, and savor the success you can achieve with players such as Akers, Gibson, Cooper, Robinson, Higgins, and so on. That range of picks is where you get discounts on players and are easily able to round out the roster from a paper tiger to a dynasty contender.
I hope this article is able to convince you to try this strategy out and see what you think for yourself. It may not be for everyone, however is my favorite strategy in Superflex leagues. Once you try it, I know it will be a strategy that you enjoy.